Free Checking Account

With a Free Checking Account, you have everything you need in a checking account without all the costs. An initial deposit of $50.00 is required to open this account so that checks and a debit card can be ordered for this non-interest earning account. There is no minimum balance requirement once the account is established, and no service charge exists on the account. The only charge you would incur is an overdraft fee if you should overdraw your account. There is also no per check fees or transaction fees. It has overdraft protection from your regular share (savings) account. So, start checking the many affordable ways to enjoy all the features of a Free Checking Account!
Compare your current checking account with Union Trades Accounts, and you will find that we can save you money.
All checking accounts are ATM accessible, and you can balance your account on our Internet Teller from your home computer or UTFCU Mobile app.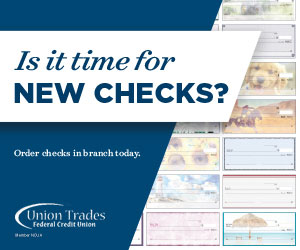 Bill Pay
Online Bill Pay is another service offered to all members. Bill Pay is a secure site you can submit payments from your Credit Union checking account to creditors via your computer, for a low monthly fee. This fee is automatically deducted from your checking account each month.